New Roof Installation
CSR Roofing Contractors, Inc. specializes in new roof installations for commercial properties including townhomes, condominiums, industrial properties, public works, schools, and multi-tenant buildings.
We have over 30 years of experience in replacement and maintenance of multi-story high rise properties – a market serviced by an exclusive small group of contractors with the essential experience, knowledge, and expertise to meet the difficult and challenging requirements (strategic planning, specialty equipment, calculated execution) of these projects.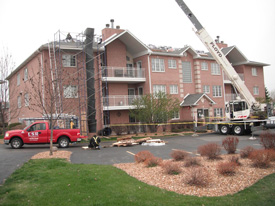 Our new roof installation services include:
Conventional hot coal tar pitch and hot asphalt roofing.
All forms of Modified Bitumen membrane, heat welded, hot and cold adhesive applied and self-adhering.
Single Ply membranes including EPDM, PVC and TPO.
Liquid applied rubberized asphalt, polyurethanes and acrylic systems.
Water drainage improvement tapered insulations.
Reflective surface coatings.
Green Roofs from various suppliers and growers including pre-vegetated Sempergreen and LiveRoof.
CSR Roofing is an approved and certified applicator for nearly every major roof manufacture including:
Aduron
BASF
Carlisle
CertainTeed
Firestone
GAF
Genflex
Johns Manville
Durapax
Owens Corning
Derbigum USA
Polyglass
Soprema
Siplast
Sarnafil
Sonnoborn
Top Coat

CSR Roofing Contractors, Inc. is committed to not only meet but to exceed your expectations by providing quality workmanship, trustworthy service and access to state-of-the-art materials.
Quality Workmanship
Anything worth doing is worth doing well. That's why CSR Roofing Contractors, Inc. will get your new roof installation right the first time, reducing unnecessary time overruns and costs.
Our fully licensed and insured crews use best industry practices and have the training, knowledge and experience to ensure your new roof installation meets the highest standards.
Trustworthy Service
CSR Roofing Contractors' outstanding crews understand that we need to earn your trust not only for a new roof installation but also for the way we treat you and the rest of your property. That's why we make the following promises:
A fair market estimate to deliver the greatest value at the most reasonable prices.
Answers to questions about any products and services related to your new roof installation.
Polite, professional and respectful service before, during and after your new roof installation.
Measures to prevent property damage.
Clean-up of materials and tools on multi-day new roof installations.
State-of-the-Art Materials
CSR Roofing Contractors offers a range of quality products at a variety of price points for your new roof installation:
Call us today at 708-848-9119 to schedule an estimate for a new roof installation.